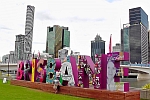 The Brisbane River microbiome

The health of the highly urbanised Brisbane River is important for the City of Brisbane and the entire Moreton Bay region. Investigating the river microbiome and its changes over time will help us understand the role of these microbes in river health.
The Brisbane River (Meeannjin) is the longest river in South-East Queensland and flows through the city of Brisbane before reaching Moreton Bay and the Coral Sea. Rainforest once lined the shores of the Brisbane River, but the last 200 years have brought radical changes to this ecosystem.
Trees on the banks were cleared, the river was dredged for mining and shipping, dams were built, and the increasing population put further stress on the river. The result is a deep, fast flowing river with a high sediment load and mostly poor water quality.
This project aims to investigate the microbial community in the Brisbane River and to assess the impact of high nutrient loads, pesticides, and plastic debris on the river microbiome. We employ culture independent techniques, such as metagenomics, metatranscriptomics, and single-cell genomics, to assess microbial abundances and to link taxonomy and functions. We investigate the abundances of potential pathogenic microbes, the spread of antimicrobial resistance genes, and the viral load of the river. Our goal is to use this microbial data to understand, monitor, and eventually predict river health.

 View from the cliffs at Kangaroo Point across the Brisbane River to the City Botanic Gardens.